Sunset at Katwijk,
A good friend of mine wanted to experiment and learn long exposure landscape/seascape photography. So after checking the weather and tide and matching our own schedule we finally hooked up on a warm monday evening in July.
We decided to go to the location where the Rhine finally ends up in the North Sea. The river first has to pass the big outer sluice/locks. They were built to prevent the high tide from surging up the river and creating floods inland.
There is a breakwater built out of rocks that breaks the force of the waves around the entrance of the sluice and keep it from eroding. Some of the rocks of the breakwater have come loose or have been put loose to slow down the incoming tide. I knew that these rocks would be visible at low tide and my friend wanted to do 'something with rocks and water and a long exposure'.
I had been at this location before (as seen in this image left) so I knew what to expect. Some of the rocks were covered with seaweed and they make great foreground subjects! This time I had a little better/more equipment and techniques to try to capture… yes capture what exactly? I did not have any previsualization at this time, I just went out to try to get nice images. This not only set me free to do as I wanted but made me try a whole lot of different compositions and angles, working the scene as they say. So I got a couple of nice images with different moods and subjects all beach themed though. Usually I go out on a specific plan and I do my best to stick with the plan but this time was different. Having no other plan than just 'getting out there when the conditions were nice' gave me a wider angle of view. I was simply more open for whatever caught my eye. At this specific shoot this  approach worked out really well for me.
Here's a small preview of my setup for that day (when there was light enough)
We stayed during the sunset and way after. I'm just a sucker for the blue hour and with the sky being what is was, clear and kind of boring, I knew that after sunset there could be some nice red tones just over the horizon.
Whilst taking photographs the light just got better and better! After taking some nice images of rocks that look like they're from on some alien planet, the puddles left by the low tide and shapes in the sand attracted my attention. I immediately recocnised 'the shot' in my mind's eye, yes that's it! The shapes in the sand invited me to make an almost abstract image and very minimal of the beach. No distractions just shapes, color and silence…
Anyway lets cut to the chase, below are some of my favorites;
Stuff used
Tripod, bubble level, remote release, Nikon D90, Sigma 10-20, Circulair Polariser, Hitech 0.9 Hard grad ND and 0.6 soft grad ND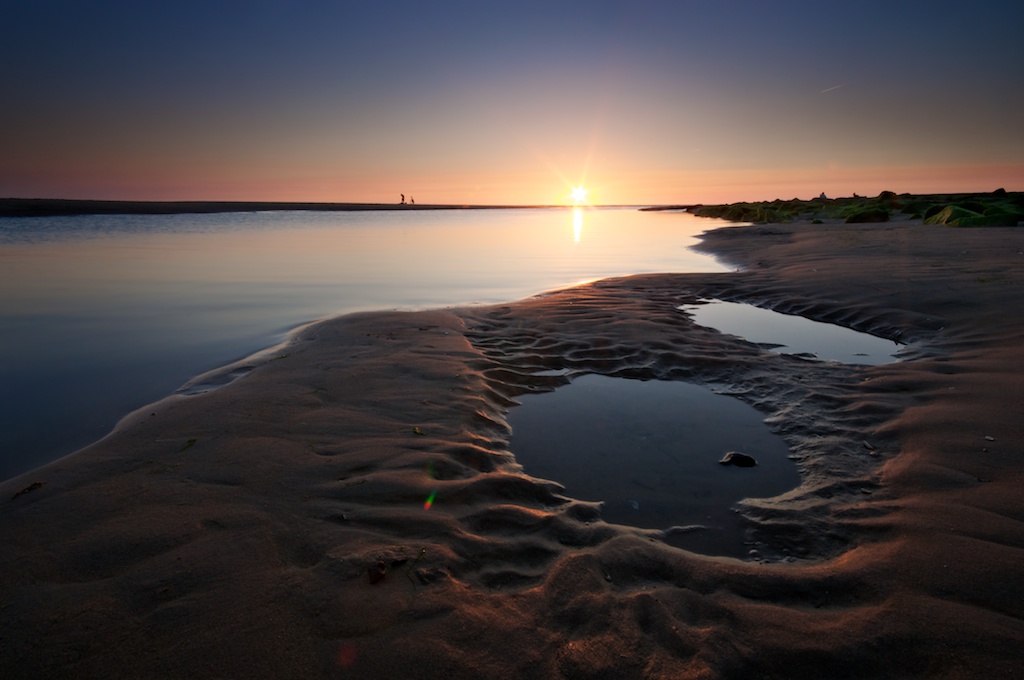 'Enjoy the Silence' by Martijn van der Nat
Technical details: Tripod, remote release, Nikon D90, Sigma 10-20, 12 mm, ISO 200, f14, 15 seconds, Circulair Polariser, Hitech 0.9 Hard grad ND, WB=Daylight