04:00 Hrs my alarm goes off. I did not sleep very well because of the excitement of what I am about to do. Somewhere in my mind a small voice tells me to stay in bed but then I realize again that what I had set out to do… It is mid august and the heather is in full bloom. In my social media timelines I get tons of awesome images of heather and fog and sunrise… And that I what I have in mind.
As most landscape photographers I have a bucket list of places I would love to shoot someday. And this year I am really getting to some of the top places on my list. I have been to Zaanse Schans, Scheveningen, Marken and today finally I am going to the Posbank.
"If you want to be a better photographer, stand in front of more interesting stuff."

— Jim Richardson
It's about 1,5 hours drive to the Posbank and it being my first time I do not quite know what to expect. I have seen tons of images online, checked maps, checked Photopills, TPE, read blogs, and even watched a nice vlog (by Royz) on youtube on visiting this location. During the ride I can clearly see that there will not be any fog today… To bad but I'm going anyway…
Living in the Netherlands can be quite challenging as a landscape photographer because everything is flat and straight. But there are some places where there are, what most Dutch people would call, mountains. These are more like small hills but close enough for me. The Posbank over at the Veluwe National Park is one of those places that has nice rolling hills. Even better, these hills are covered with heather and an occasional solitary tree. Wait it gets even better… in August the heather is in full bloom and all the hills are covered in purple… And if you plan carefully and wait for the right circumstances or get lucky it gets even better still… sometimes is even a nice fog in the valleys in-between the hills. You can see that this location contains a number of factors that make for a great image; great location, subject (hills, heather, trees), light (sunrise) and atmosphere (fog, mist) all you need is to get there on the right time…
After getting off the main road suddenly the road travels through the woods and becomes small, windy and upward… I'm driving slowly because the park is filled with deer, horses and other wildlife and they cross the roads frequently. In some open patches you can see heather here and there and then all of a sudden you are driving next to one of those purple round hills. A little further and the trees are becoming more scattered and the hills are more prominent. The last bit is in-between the hills and I see the vantage point in the distance. I drive up the last bit of the biggest hill and suddenly see a police car and a Park Ranger signals to stop. We have a small conversation and it turns out that you are not allowed into the park before sunrise. This is because the wildlife gets disturbed to much by the visitors an there are numerous occasions where deer and other wildlife have been hit by cars. He explained that on some days there are over 40 cars racing into the park before sunrise and that is why they have started to post there during heather season. I was there about 15 minutes before sunrise at that moment and the Park Ranger was nice enough not to order the police to give me a fine… (thank you very much). 'Have a nice day sir' he said and I drove to the parking. Even on this wednesday I met several other idiots like me, ahum I mean photographers, that had set their alarms early this day and I could imagine that in the weekends It could get very busy indeed especially if the weather had forecasted fog…
I have never been at this location and even tough it was obvious during the trip that there was not going to be any fog I was a little disappointed at first. I must say that the pre-sunrise light did not bring out the best of the colors in the hills and because there was no fog it looked a little blah…
After taking some shots from the vantage point for the tourists I headed to the left and found a little winding trail into the hills… Then all of a sudden my normal alarm went off on my phone. I smiled because I had been up for a while now but this was the time that my usual workday begins… It was a strange realisation. I followed the path some more over a hill and then I came to the following scene… I got a big smile on my face; this was exactly why I had come over here and my excitement went in overdrive!!!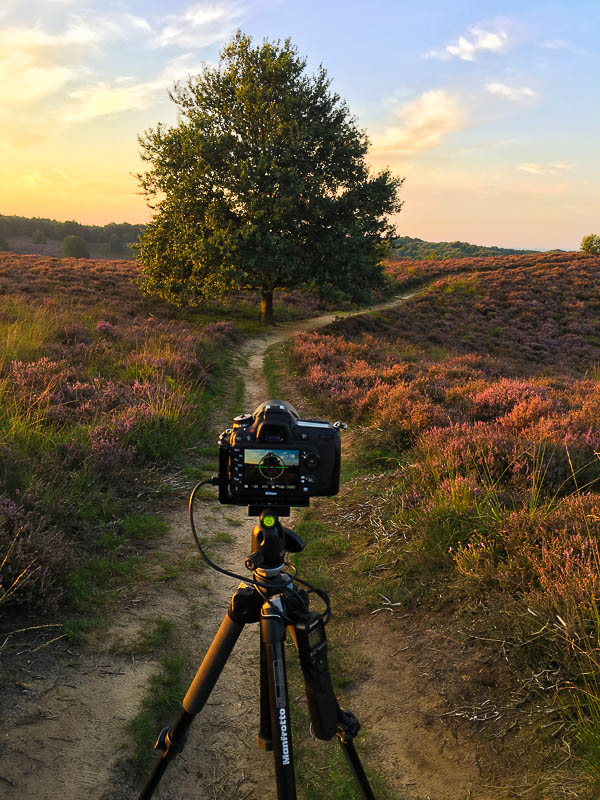 I have spent way to much time on getting the perfect shot for this tree but boy do I have some shots of a tree!!! The floodlight just brushing over the heather was an awesome sight and makes the landscape come alive. Structure, light, shadow, color it was all there!
I followed the path some more but did not find a scene anymore that could match this one. It was almost time to head back and on the way back I did manage to shoot some more… Because It was my first time it felt a little more of an exploration, a reconnaissance. I have gotten a very good sense of this place and next time I will know better where to go and where not to go. Next time? yes next time because even though I got exactly the shot I wanted to get I have seen that this location has a lot of potential to get some more awesome shots…
When will be my next time? I do not know yet, maybe next week, maybe next year but I'll try to return!