As a landscape photographer you spend a lot of time searching for great locations. Most of the times a good location is not enough for good Landscape Photography. Especially if you live in my neck of the woods. Here's a great tip; once you have found a location it is a good idea to go over there and take a look at different times of a day and under different conditions. The weather and other condtions have a huge influence in making a landscape photo 'work' or not. 
Previsualizing
After a searching for the 'right' location another search starts and that is the 'right' weather/conditions. Previsualizing an image with certain conditions really helps in this search. In my case I set out to take a Landscape Photo of a ripe Wheat field and the tracks in them with some small clouds nicely spread out over the clear blue sky. I set out to capture such a picture and last week I posted this image of an nice wheat field and an sunstar just above the horizon.
In its own right it is a nice capture, colourful and a strong composition but not what I had in mind. Ever since a year ago when I was at the same location I wanted to try and shoot this location with your typical dutch clouds under a great not so typical Dutch sunset.
Because it is a familliar spot I know exactly how long it takes to get there and where to park the car. The one thing I was afraid of was the fact that nearby there were a couple of fields that were allready beeing harvested so time was of the essence here… I dared to wait another couple of days for the nice clouds to arrive and even though the forecast was not promising I took a chance and off I went. To come home with the following capture…
A totally different atmosphere. I was hoping for that one last opening in the sky that would allow just enough sunlight to set the clouds on fire… Instead I got the glowing eye of Sauron staring at me 😉 But still I was not happy so I kept looking at the weather and trying to predict the type of sunset.
Finally there was a chance, I had an opportunity and the sky looked promising. In the part of The Netherlands where I live usually the clouds get blown away by the strong south western winds during the course of the day. Especially on a warm summers day. So the kind of picture that I was planning on capturing is allmost a rare phenomenon.
Last monday a new opportunity arose and things looked great… I grabbed my stuff and of I went. Whilst in the car driving toward the fields I kept checking how the weather was developing. Sadly just before I arrived the sun hid itself behind a great big cloud just over the horizon and I was beginning to worry that I was getting  the same result as the previous time. This time things were different, just before sunset there was a small opening and the sun immediatly peeked through. Since I've been to this spot multiple times, getting a composition was a lot easier. Because of that the following shot was the second one I took that evening and the moment of the sun peeking through did not happen anymore after those two minutes.
Here's the result from that shoot;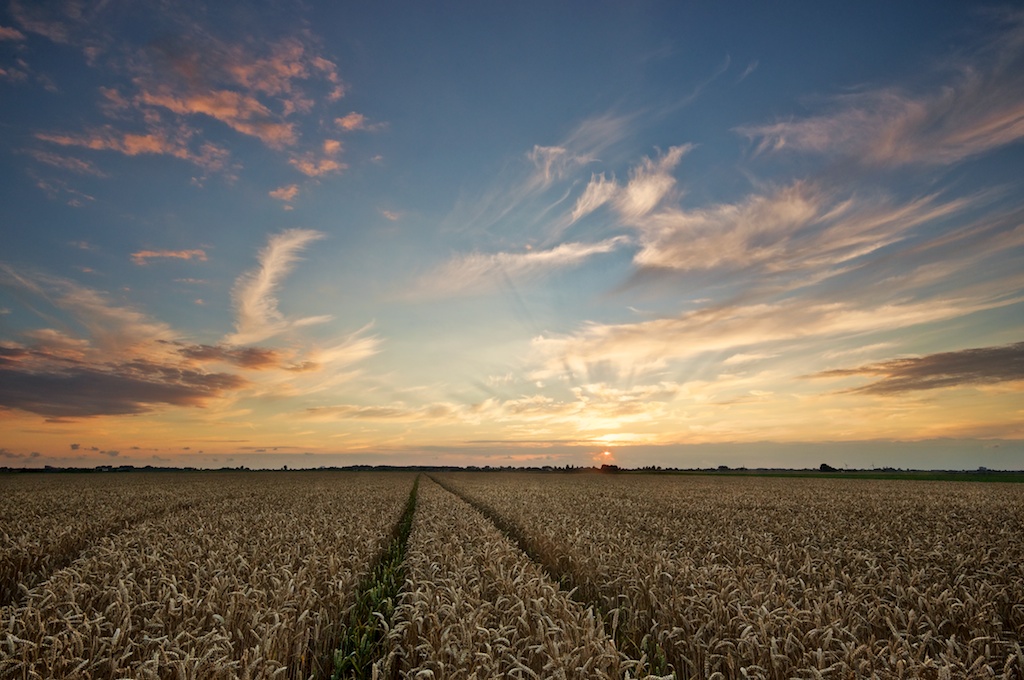 In my opinion this feels like a stronger capture than the first one just because the sky is more interesting. These still weren't the clouds I was hoping for but the shadow lines of the sunlight behind those clouds in the distance are making the picture 'work' for me. I would have loved to have some direct sunlight flooding the fields and lighting up the wheat ears but oh well… I might just have to go back someday… maybe even next year… I'll keep this on my shotlist for now…
All in all I ended up with a couple of completely different images of the same location and if this were a commercial shoot it would be great for a client to be abled to choose. Revisiting a location is worth the effort. Just because you have 'been there and done that' makes that you can pay more attention to the other aspects of Landscape Photography.
Hope you enjoyed this post and learned somehing from my 'mistakes' keep shooting!
(edit added one more photo below of the 'failed' evening..)