Every year I take the time to look back ay the images I produced that year and make a selection of them. The criteria for this selection is mostly determined by the images that mean something to me, that have a special story. It might be a long awaited location I wanted to visit or just images I like best. I tried to narrow it down to around 10 images and I will try to write something per image on why I consider it to be special to me.
It is a fun tradition and usually I make a video along with this post where you have a bigger selection. It is also good to look back and hopefully maybe even see some form of progression from previous years. Overall I can say that I see myself taking more portrait/vertical orientated shots and I see a tendency towards a lighter touch on post processing with more muted colors and less saturation.
Any way lets cut to the chase; here they are in chronological order;
A very special morning back in February. Snowy conditions and an amazing sky. I love the muted tones of this image and it gives a painterly feel to it. All in all I feel that the conditions suit the location very well and I am happy how the leading lines from the snow covered ice worked out.
Finally a shot with some characteristics I wanted to have in a flower field-shot I absolutely love the bottom part of this image and how the light is hitting the hyacinths a little from the side. It gives dimension to the flowers and adds more interest and structure to it. And all it took was to be at the location a little earlier…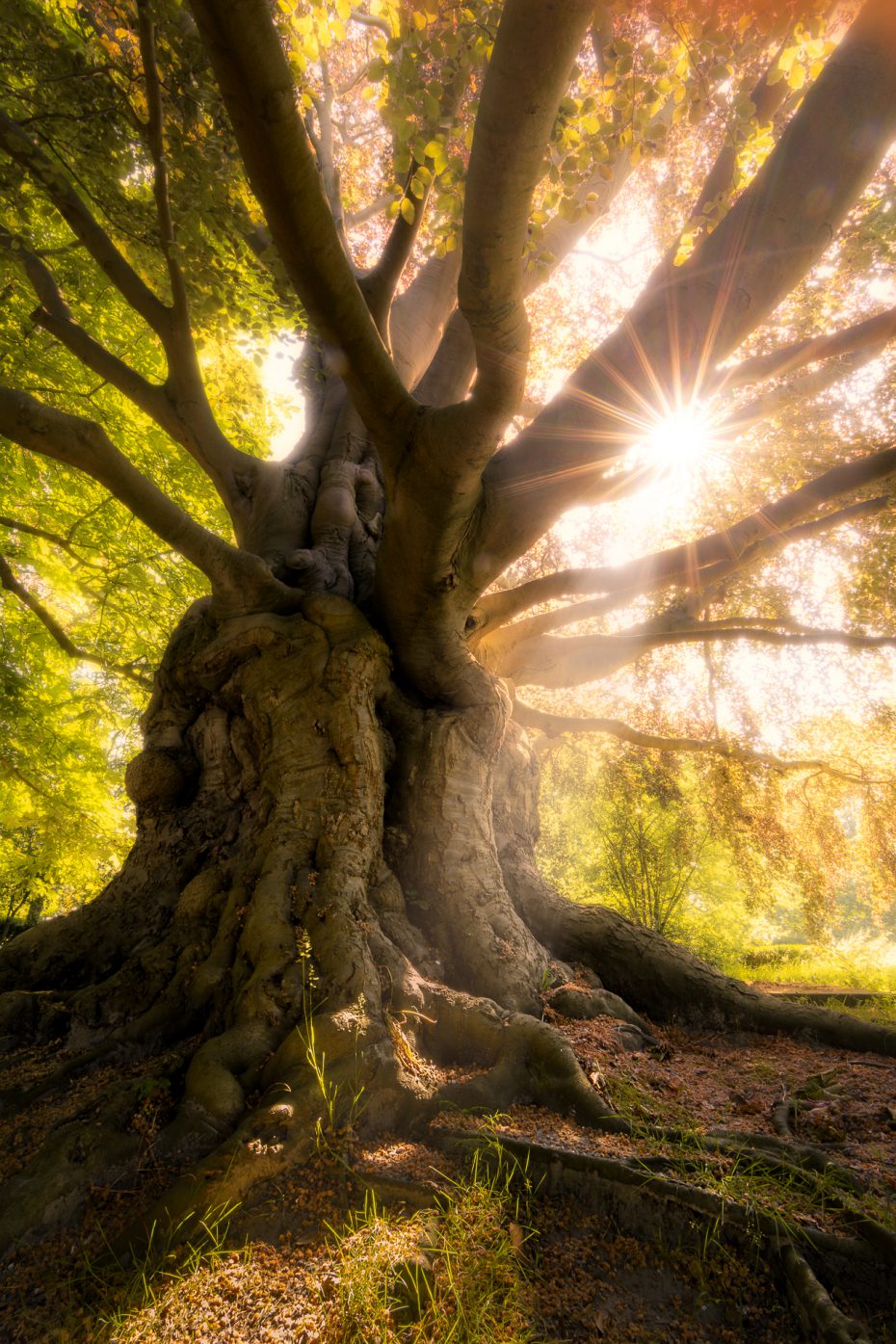 Ever since I found this image in Jos Duivenvoorde's instagram stream I had this idea of capturing it. I have been to this location several times and this time in spring. This tree is so big that it is hard to get it in your frame and it actually only has one good side in my opinion. All this shot took was me lying on my back on the ground to frame it up properly in the widest lense I have, set the aperture to f13 and partially hide the sun to get a sunstar. Vertical was the best way to go.
Taken on my second trip to the Zaanse Schans I knew this viewpoint from other photographers. I had been shooting the well known shots all evening and then finally just before it was time to go we wandered in this direction. Took some time to frame the shot and again I liked the vertical/portrait version of it best.
Ah Zeeland! On my first visit ever to this beautiful province of the Netherlands I took some shots of these wavebreakers. Ever since that shot I wanted to recreate/improve on some mistakes I made in the initial session. This year we made a family trip out of it and whilst the entire family was having fun and a BBQ at the beach every now and then I walked away and tried to capture the wave breakers. This shot is nothing like the original, but I think its simplicity and cleanliness reflection, composition, sunstar and the muted colors are working very well together.
One of my long awaited shots on my shotlist. During my holiday in Normandie there was a small oportunity to go out and shoot the sunset. It was a drab and dreary day but in the evening things started to clear a little. I headed out to the beach to try to shoot the dunes and the sea and was welcomed by awesome conditions; low clouds and strong winds. I had a (sand)blast… Why do I like this shot so much? You can almost feel the conditions, the cold, the very strong winds. And I am in love with how the clouds look in this image… Must shoot in sidelight more often!
One of those days you decide to bring your camera on the morning commute and then see that the sky is going to be special. What do you do? I headed as quickly as I could to the nearest photographic location and was treated to this sunrise… I just love the sky in this shot, it is all about the sky… Had a hard time processing this to try to keep it 'realistic'.
I found a new location in my town and whilst cycling across the Herengracht I was taking shots of that lovely canal. This was one of the bridges I stood on for some time to shoot the canal and I saw this composition, disgarded it since I was here for the canal and headed to another place, only to return here and eventually shoot this composition anyway, it just stuck in my head. Personally I love how the cobblestones make a pattern and lead you into the frame. And here I like the muted colors as well.
Autumn went out with a bang! This was the last day of the autumn color and it even was a foggy one, what more can one ask for?
Only taken a week ago as I write this. I consider this the image of the year for me and maybe even of all times. You can read more on it over here. But I'll explain why I think this one works so very well. It has three things going for it, first the location of the Erasmusbridge of Rotterdam at night is always good for a nice image, but then there is a reflection in the puddle that makes it a little more special and make a different composition than the shots everybody takes. Third and final the decision to shoot this at aperture 2.8, the bokeh it created with the wet foreground is creating depth and the pattern or it leads the eye into the frame. Again it is the vertical/portrait version I like best of this shot, I just feel that it leaves out the unimportant stuff and creates more depth and better bokeh-balls…
So that's it, I now leave you with a soothing video with a wider selection of just 10 shots but of course these are in there as well hope you like.